Kurze Reihen
Hier mein erster Versuch einer Bumerangferse: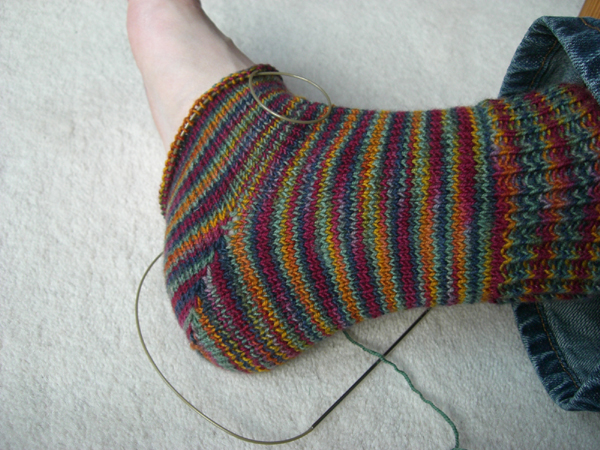 War eine ziemlche Fummelei. Lauter Umschläge umdrehen und zusammenstricken. Das hier ist der dritte Anlauf, und das Resultat ist ganz okay. Aber wenn ich ehrlich bin, mag ich die Standard-Fersen lieber, weil sie länger sind und an meinen Füßen besser sitzen. Klar, am Rand der Ferse die Maschen aufzunehmen, ist auch fummlig, aber damit kann ich inzwischen besser um. Ist zwar schön, eine neue Technik kennen zu lernen, aber wenn die alte doch bessere
Ergebnisse bringt, dann bin ich ausnahmsweise mal konservativ. Von dem Garn bin ich allerdings schwer begeistert: Socks that Rock lightweight (100% Merino) in der Farbe "Farmhouse". Das und ein weiteres in der Farbe "Rolling Stone"(lila-blau-rot– sieht noch viel besser aus!) habe ich über Ravelry gegen ein Knäuel Wollmeise Sockenwolle eingetauscht. War ein guter Deal, wie ich kürzlich festgestellt habe, denn die "Socks that Rock" kosten pro 100g-Strang 19 Dollar. Ich habe also Wolle im Wert von 38 Dollar gegen ein Knäuel für 14 Euro eingetauscht, das außerdem eine Farbe hatte, mit der ich mich überhaupt nicht anfreunden konnte ("Versuchskaninchen 1": Schwarz, Lila und Türkis).