Strickplaner 2019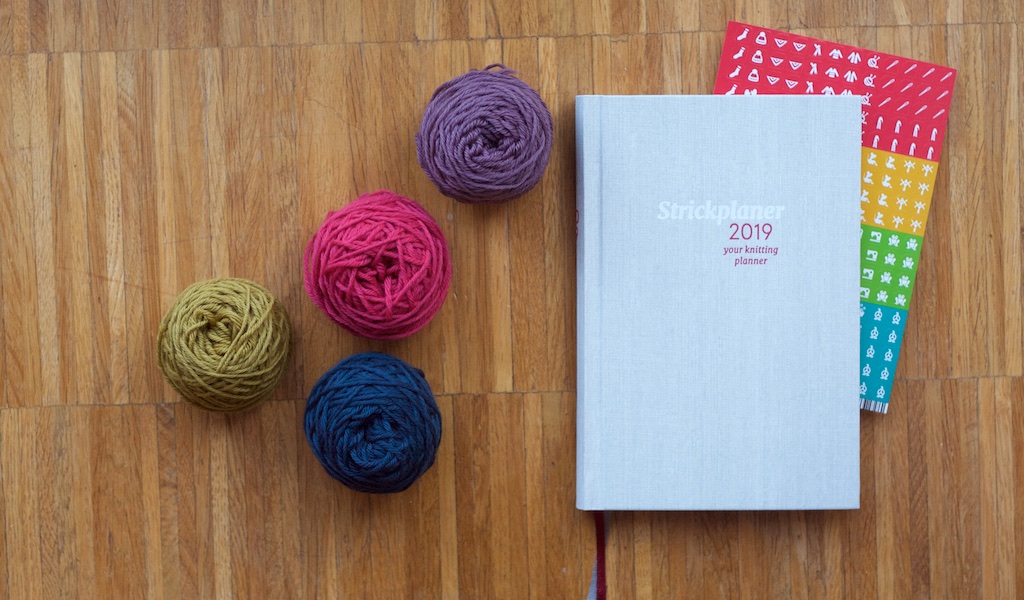 I know – 2018 is only half over, but I just could not wait to get my hands on the 2019 edition of Strickplaner… and now it's here! I am so happy and excited about the new cover material that we chose: It looks and feels like textile, but is a stain-resistant vinyl coated paper that will have your planner look great for many, many months. We have the über-cute watercolor motifs by artist Julie Levesque in our endpapers, the layout is functional, clever and clean as ever (and gives you more space to write than last year!), and we have created more special pages for your knitting needs: wish lists for yarn, knitting books and accessories, lists for podcasts, blogs and events and extra pages where you can jot down measurements of your loved ones.
Again, we worked with the planner pros from Munich based company weekview to create Strickplaner 2019 – their approach to planners is wonderful: Goal-setting and prioritizing made easy, so you can stay organized and actually find more time to knit. Plus: Strickplaner comes in a size (a little smaller than A5) that's the perfect compromise between space to write and mobility. I find that I carry mine with me everywhere, it fits even in the tiniest purse. So whenever I need to access my appointments or my knitting project information, it's all there in an instant – independent of battery life (and the temptation to get lost in a social media rabbithole once again)!
You can find all specifications and details of Strickplaner on this page.
I would like to give a shout-out to all our lovely sponsors, who have supported us in creating this awesome planner. You rock!
Strickplaner is available in Strickmich! Shop, where you will also find the Pro Kit containing the planner, an adhesive pen loop and two kinds of useful stickers, and the Deluxe Kit that comes with the planner, a Schoppel Zauberball to make the knitted slipcover I designed for it ("Cover Your Plans", pattern is in the planner), two kinds of stickers, a pen loop and the Strickmich! fabric tag.
Or you order from one of our retailers!
Happy planning & knitting!