Strickmich! Club 2017: Nature's Luxury
Danica Mäder Jully has an unmatched instinct to find luxury and beauty – that's what you will notice when you have a look at her gorgeous handdyed yarns: Silk and Baby Camel, fine Alpaca, Cashmere, the fine underwool of the rare North American Buffalo (Qiviut), Guanaco fiber (a south american camel) are part of her collection. Her love for rare and luxurious fibers surely stems from Danica's past as a trained goldsmith and jewelry designer. Danica got a degree from GIA in California as a Graduate Gemologist, so gemstone-inspired colors with slight variations are sort of her specialty. Her favorite color? "Green without a doubt! But I love all colors. The first thing I do in the morning is look at the skeins I hung to dry the night before and enjoy the colors!"



Eight years ago Danica started dyeing yarn because she felt that working with metal was too static and architectural for her taste. "I love that yarn is soft and drapey and a pleasure to touch, that's very different from jewelry" she says. Her craftsmanship and training are now an asset: "I used to create my own alloys, and today I create color recipes equally meticulously. My specialty are semisolids with very fine variations. I think this goes really well with luxurious fibers." Danica feels inspired by memories of special places she has visited. "I think of a mood, a place or a landscape and strive to create that one green or that one blue that I encountered there. You will often find the source of my inspiration in the names of the colors."



Danica is originally from Switzerland, and her international life started right when she was born: Her Swiss parents chose a Croatian name (pronounced Dah-nee-tzah) that translates "Morning Star". She went off to study in the US, got married to a Frenchman (lucky her!), and now they live in a small village in the middle of Germany with King Poodle "Misty" who accompanies her to yarn festivals and other destinations.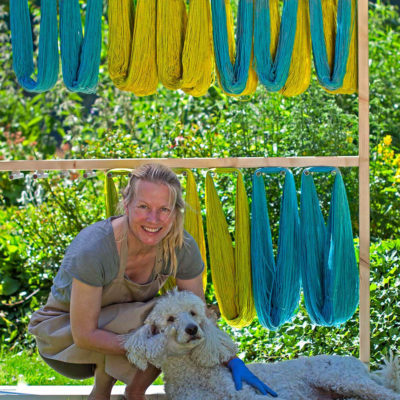 Besides dyeing, traveling and reading ("I like scandinavian crime novels, but not the very cruel ones!") Danica knits and designs, preferably with her own yarns. And she likes unusual projects like knitted skirts and dresses. "But those take a long time to make, so I end up knitting a lot of accessories like shawls", Danica says.

Danica in a handknit skirt
And that is what her yarns indeed are perfect for: Small luxurious pieces that go with everything – like my shawl "Braidsmaid", that I designed with her beautiful yarn "On Stage".
So, here at Strickmich! Club we are overjoyed that Danica has agreed to dye an exclusive colorway for us, on a soft, luxurious yarn base that will be perfect for a… oh wait, that's supposed to be a surprise!
••••••••••••••••••••••••••••
We will introduce the other three dyers on this page during the next couple of days.
Strickmich! Club 2017 consists of four new knitting designs by Martina Behm plus four skeins of especially chosen, exclusively dyed yarns, carefully selected by Martina for her designs that you will surely enjoy knitting with. Sign-ups start in November on a separate webpage, I will announce the exact date in my newsletter which you can subscribe to using the link in the footer of this page.