Strickmich! Club 2020: Tieke Garne
In this series of blog posts we will introduce the dyers who are providing the yarns for Strickmich! Club 2020.
Strickmich! Club is a subscription for four new knitting patterns by Martina Behm plus matching, exclusively dyed yarn. Sign-ups for the club year of 2020 will start on November 3rd.
Susanne Walther has been dyeing saturated, intensely beautiful yarns since 2008 and is one of the pioneers of hand dyeing in German-speaking countries – and I have been a big fan of her yarns ever since I saw them in my favorite yarn store in Hamburg. In the 90s, Susanne started to make little things like purses out of felted Merino Wool and sold them at local crafting fairs. She then added yarns and used the brand name "Lollipop by Filzflash", since the yarns were so colorful. "But after a while, I did not like that name anymore, it sounded a bit child-like", Susanne remembered. After a break that the took to focus on her job at a museum in Hamburg and her task as a single mother, she started dyeing again in 2016. Her dyeing workshop goes by "Tieke Garne" now, since "Tieke was my grandparents' last name, and I loved them very much", Susanne said.
Family is a big topic in Susanne's creative biography: "My mother is a photographer and she used to paint all the walls in our house in different colors. I grew up surrounded by intense, saturated colors", she recounts. Her room was first painted yellow, then orange-and-purple, later bright green and purple again, "with red shelves", Susanne said. That will sure make an impression! Her own apartment used to be very colorful, too, but now Susanne prefers white walls and tons of multicolored accessories. "I have knit and crocheted a lot of pillow covers and sewn a couple of quilts in bright colors. The joy of colors has wandered from the walls into the textiles!"


Susanne's living room with pillows and quilts

Her passion for wool also stems from her childhood: "Friends of ours used to have a flock of sheep, and my mom got a fleece every year. We would wash and card it and spin it into yarn at a Louet spinning wheel." So wool played a big role! Susanne also started knitting and crocheting before she started school, and her mom always had some knitting on the needles.
Her dyeing style is in constant transformation: "My true love are semisolids, but I also do speckled yarns." Her favorite colors depend a lot on the seasons. In late summer, she loves berry tones that become more and more saturated as fall approaches, from maroon to bright pink. "I do love subtle colors, but I also like to play with more intense ones that resemble those from my childhood home – both styles are beautiful!"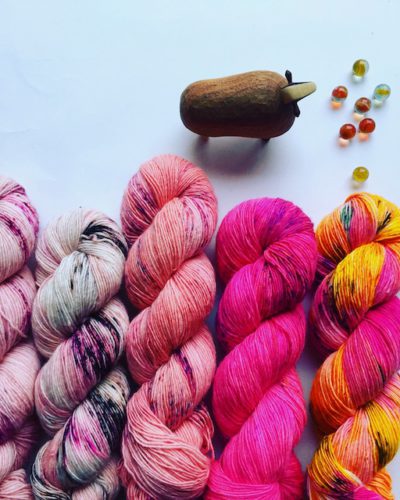 Susanne's favorite fibers are Merino and Bluefaced Leicester, and when the colors are supposed to pop, they must also be superwash: "They will take the colors amazingly well", Susanne said. "But I also love yarns that are not treated as they have an amazing feel to them, especially if they come from the UK. Those yarns have a warmth to them, character". She also loves fine Mohair yarns that she likes to hold double with a heavier yarn.
Tieke Garne are sometimes available at fiber festivals, in Tieke Garne Online Store and at a local yarn store in Hamburg. "I can't produce big amounts as I still work at the museum half-time", Susanne said. Her yarns are a rare treat – and we are looking forward to having them in Strickmich! Club 2020.