Greensock
Die Weihnachtssocken für meinen Sohn waren nicht am 24., aber immerhin am Morgen des 25. Dezember fertig: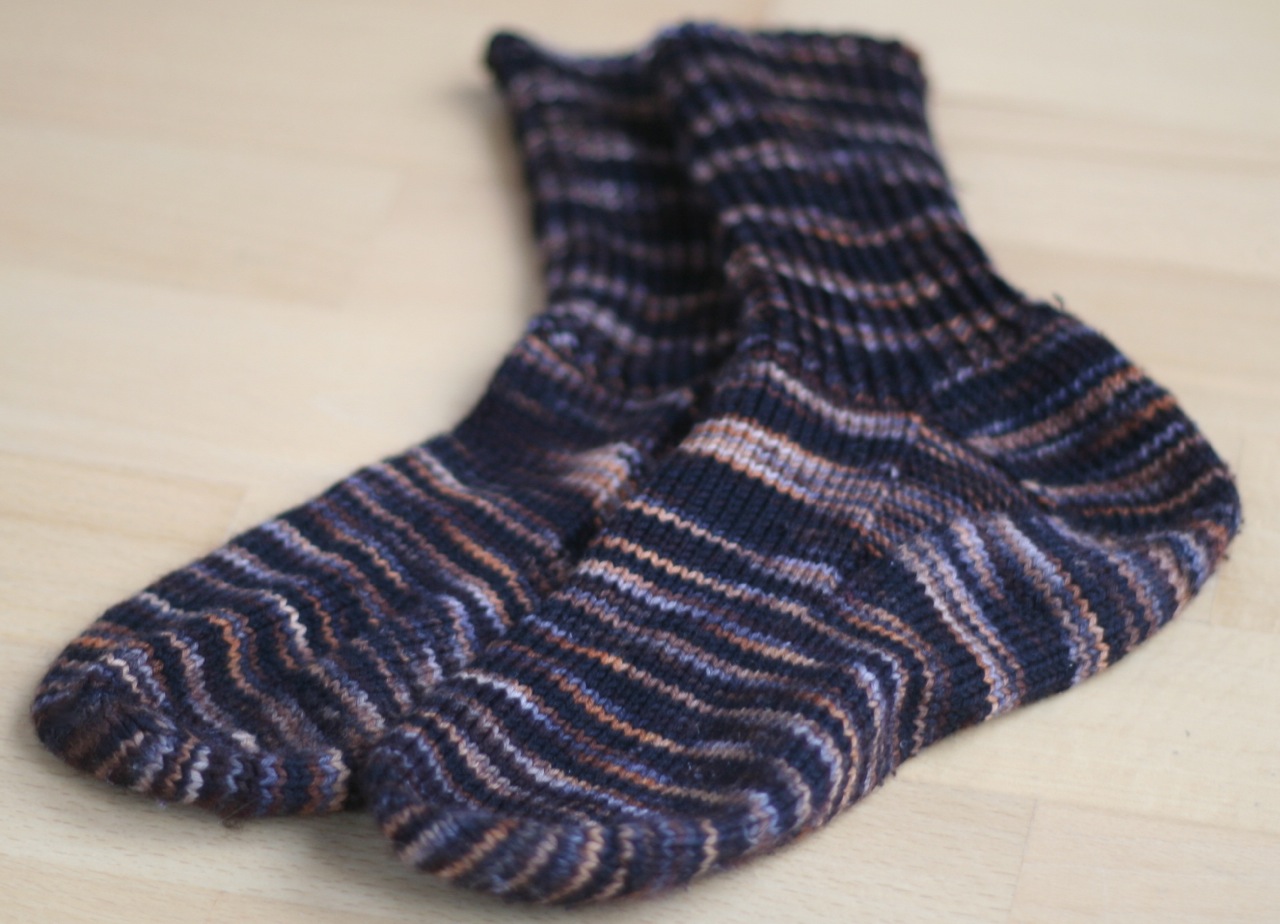 Sie sind ihm noch einen kleinen Tick zu groß, aber er trägt sie supergerne und fischt sie immer als erstes aus seiner Sockenschublade. Kann ich gut verstehen. Auf dem Knäuel sah die Farbe ("Zenzi Dark", Garn: Wollmeise Twin) gar nicht so vielversprechend aus, aber verstrickt ist sie so schön, dass ich es fast bereue, sie für Kindersocken benutzt zu haben. Man stelle sich eine Mütze oder Fingerhandschuhe daraus vor! Vielleicht habe ich auch aus diesem Grund für das nächste Paar Kindersocken keine Garnrarität, sondern ein schlichtes Knäul Regia gewählt. Aber hier der gleiche Effekt: Erst beim Stricken zeigen sich alle Schattierungen, und es werden nicht einfach nur grüngestreifte Socken, sondern edle Unikate. Kunstwerke. (Genau das ist ja Stricken: Garn in Kunstwerke verwandeln!) Und die werde ich auch heute abend bei der Knit Night im Mylys auf den Nadeln haben. Man sieht sich dort!
I finished my son's Christmas Socks. Not on the 24th, as German tradition requires, but on the 25th of December. They are slightly too big, but he loves them and always picks them first when they are back in his sock drawer after the wash. I love them, too. I think the colorway is really gorgeous ("Zenzi Dark", Wollmeise Twin), and looks so much better knitted up than on the skein. If I had known, I would not have chosen this yarn for children's socks. Can you imagine a hat or gloves in this beauty? See. That's probably why I picked a non-handdyed yarn for my next pair of little socks: A green ball of self-striping Regia. And you know what? The effect is just the same! It looks nice, but not spectacular on the skein, and when you knit it, all the beautiful shades of green suddenly appear. They will not just be simple green striped socks, they will be a work of art (that's what we knitters do – turn yarn into art. Great, isn't it?). And I will be knitting on them tonight at Knit Night at Mylys. See you there!