Match & Move, freshly knit!
The basic design of this shawl is so commonplace and popular now and has inspired a lot of designs, but when I came up with it in 2014, it was a true invention in the construction of knitted shawls. The construction results in V-shaped stripes that can be accentuated by using a color-changing yarn, stripes or lace patterns.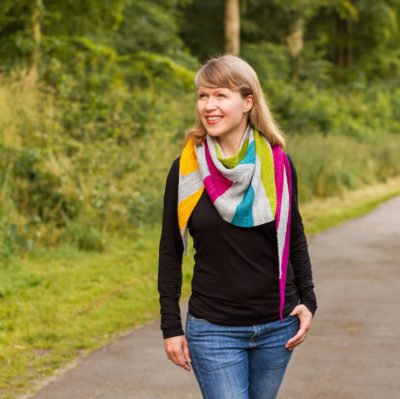 Strictly speaking, Match & Move was the third shawl that I made with this construction: The first was Mrs Watson, published by Berroco Yarns, with its leaf-like stripes (I submitted the pattern in 2014, but it was published in the spring of 2015). Then I used it for Thousand Tulips, a Strickmich! Club pattern with a simple lace pattern that resulted in little tulip-blossom shapes along the spine of the shawl. But the purest incarnation of this construction is "Match & Move", so we decided to feature this pattern here instead of its two siblings that were published earlier.
Match & Move was originally made out of two semi-solid skeins of handdyed yarn in bold stripes. But for this book, I thought it would be fun to re-knit this iconic design in a little rainbow resembling the colors of the Strickmich! Logo. You will need five mini-skeins in the contrasting colors and a more neutral one for the background.
Find the beautiful yarn kit by SweetGeorgia and the book "Strickmich! Knitting Inventions" in Strickmich! Shop.