Strickmich! Sommer Camp 2022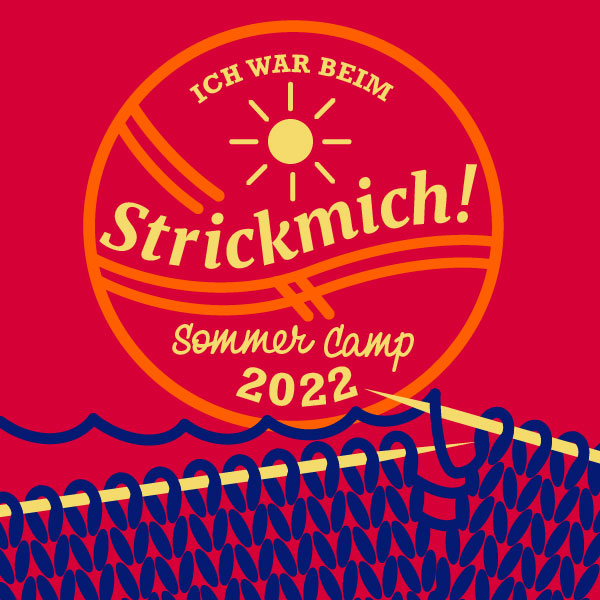 We have great summer gifts for you! Until August 31st we are knitting together and chatting along beside the virtual campfire in Strickmich! Netz – where we do not only play the guitar, but knit on our individual projects! If you post a picture of your finished Sommer Camp Project in Strickmich! Netz before August 31st, you will participate in a raffle with the chance of winning one of 7 gift packages with yarn, books and knitting accessories (link to Strickmich! Netz). Strickmich! Netz is our own little social media network with a focus on knitting – we find it important to be respectful to one another at all times. So far, Strickmich! Netz has proven to be a very relaxed and friendly environment. It's ad-free and free to use for you. Come join us! 
But how do you get the Sommer Camp Goodies – like that lovely tote bag?
Easy – place an order from August 3rd through August 31st in Strickmich! Shop, for more than the amounts stated below, and we will ad your Sommer Camp Goodie automatically. Sounds good, right?
From 25 Euros: Strickmich! Pencil
From 70 Euros: Strickmich! Sommer Camp Tote Bag 2022 (when these are out: Strickmich! Organic Project Bag in blue)
From 150 Euros: Strickmich! Big Bowl
From 200 Euros: all three goodies – Pencil, Tote Bag (when these are out: Strickmich! Organic Project Bag in blue) and Big Bowl. 
Only valid for orders between August 3rd and 31st and as long as supplies last. Shipping costs and items for download do not count towards the stated amounts. 
Be part of Sommer Camp and join us now in Strickmich! Netz!