Sophiste
Here comes "Sophiste" – a stole that is zig-zagged through and through, and (because it's more fun) on the bias. I have knit my samples out of the beautiful, squishy "Lovely Merino Treat" by Rosy Green Wool. It's mulesing-free, GOTS certified and one of the softest wool yarns on the planet. "Sophiste" is a big scarf or a medium-sized stole that you can wear over your shoulders or as a scarf around your neck under your coat. Start yours now to be done when the days get colder again!
The zig-zag pattern is fun to knit and easy enough with the use of lots and lots of stitch markers in two different colors. The parts that need to be explained are shown in a video that's linked in the pattern.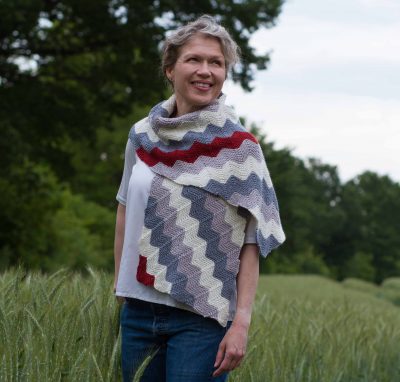 You can work "Sophiste" wider and longer as you please, but you will need more yarn if you do so. Also: more stitch markers! In the samples, I used up one skein of each of the main colors plus around half a skein of the contrast color. "Lovely Merino Treat", the pattern and the useful stitch markers are available in Strickmich! Shop. We ship worldwide! The pattern is also available on Ravelry. Happy knitting!